Exploring Opportunities and Challenges in EU-China Supply Chain
[June 7, Shanghai] – European Union Chamber of Commerce in China and MOOV Logistics jointly held the "China-Europe Supply Chain Outlook" forum, which concluded successfully. The event brought together industry representatives, including beneficial cargo owners, ocean carriers, upstream-downstream supply chain service providers and policy experts, to explore the opportunities and challenges faced by supply chain management between China and Europe in terms of digitalization, trade tensions, and the post-pandemic era.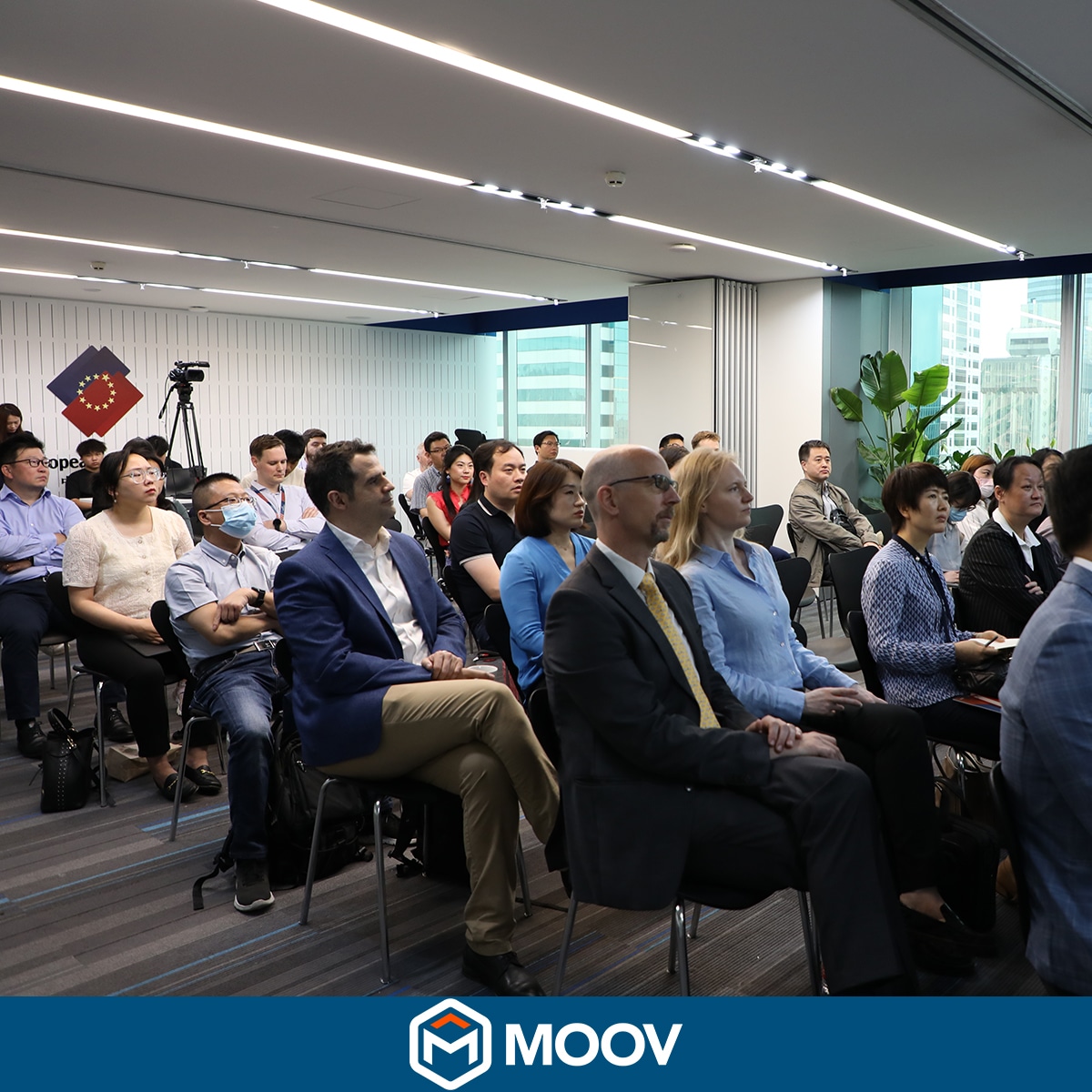 Mr. Benjamin Zheng, Partner of Deloitte Monitor Supply Chain & Retail Operation, opened the event and shared his insights on the performance of representative companies in the shipping market, as well as the current status and trends in trade between China and Europe. Additionally, Mr. Mark Frans, Deputy General Manager of MOOV Logistics, Mr. Merijn de Bruijn, General Manager of Prins Castings & Forgings China and India, Mr. Mingyue Lian, Senior Advisor of Tailwind Shipping Lines, Mr. Tom Hoorn, Deputy Chair of the Logistics Working Group of the EUCCC, and Mr. Robin Tabbers, Principal of R&P China Lawyers, provided their perspectives from different roles in the supply chain, including manufacturers, shipowners, policy regulations, and logistics service providers, and shared practical cases how to cope with the many challenges caused by instability in the supply chain and how to counter with corresponding strategies.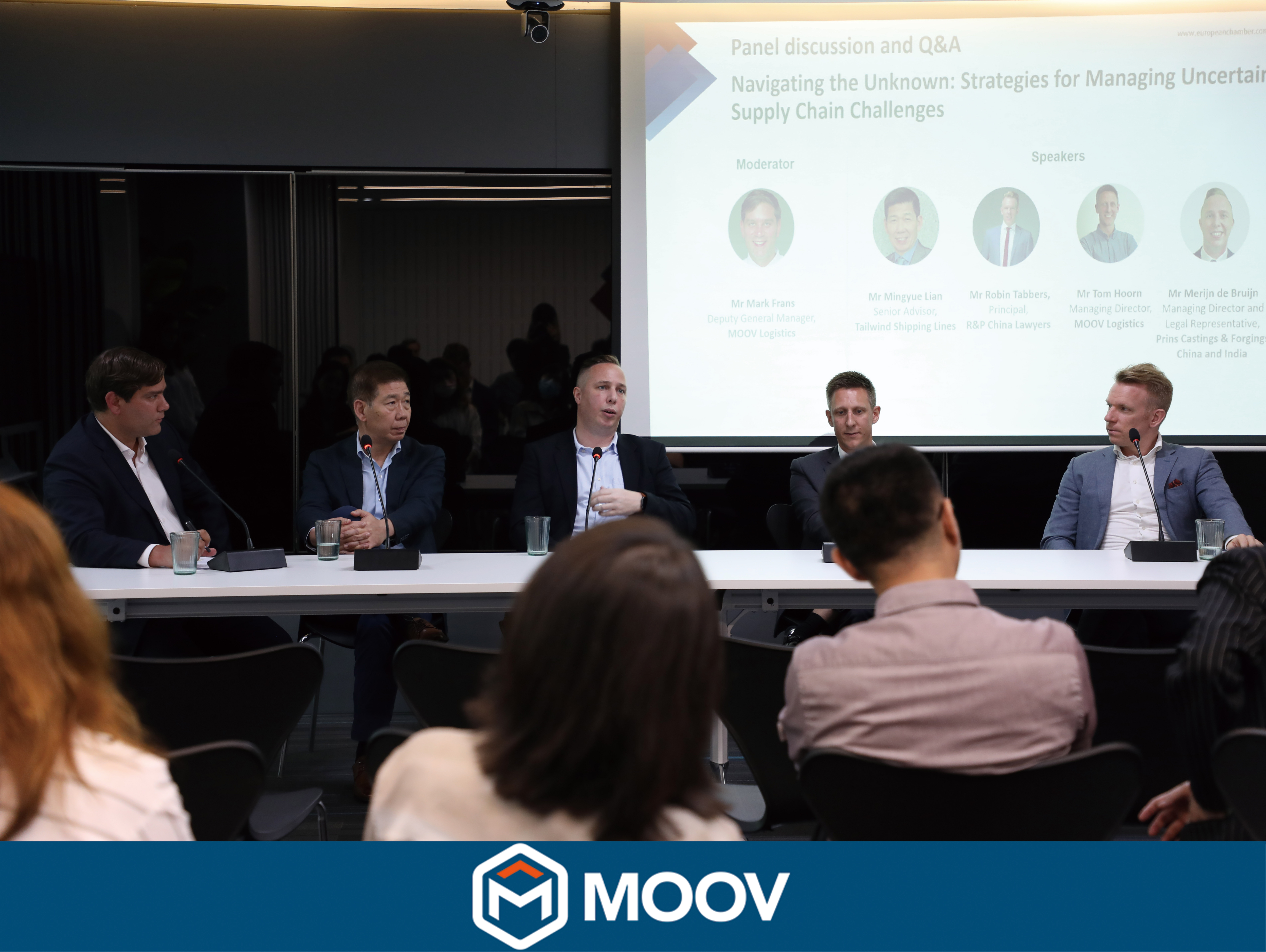 Overall, in recent years, there has been a stable trend in export growth from China to Europe which was acknowledged by the speakers. However, it was also pointed out that the pandemic has undeniably affected overseas demands resulting in significant fluctuations in international transportation prices and prompting changes in the strategic approaches of some companies in the market, such as retailers operating their own vessels/trucking to ensure stable transportation. Additionally, changes have occurred in people's work and daily habits, such as remote work and community retail. All these factors have intensified the urgent need for companies to have stable supply chains. In response to this reality, the establishment of a digitalized supply chain structure has become an effective means to mitigate risks. As pointed out by Mr. Benjamin Zheng, the current global market situation calls for an accelerated digitalization process in the industry. The supply chain is a broad field that encompasses not only business model reshaping, customer experience, and intelligent operations but also requires coordination and collaboration among different departments within companies. However, in the future market, a stable and efficient supply chain will significantly enhance market competitiveness.
MOOV Logistics, with a history tracing back to 1918, has always been dedicated to logistics and supply chain management services between China and Europe. Based on our extensive case studies across various industries and deep understanding of the field, we have developed a control tower that enables end-to-end digitalization of the supply chain, creating a fully transparent, visible, and highly customizable platform for digital supply chain management, ensuring stability and efficiency for your supply chain!